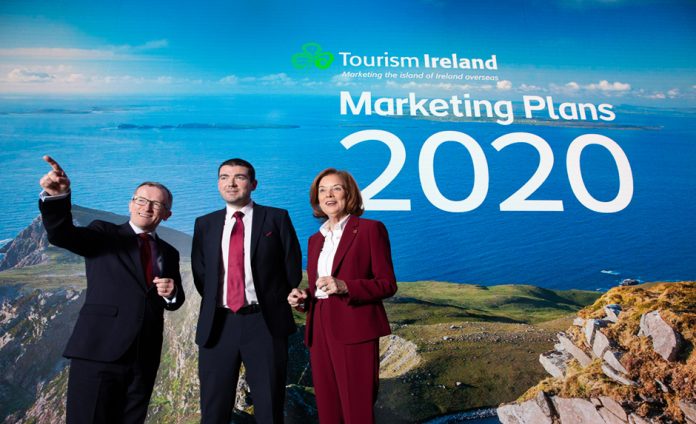 Tourism Ireland launched details of its new three-year strategy for 2020-2022 this week and its marketing plans to promote the Island of Ireland overseas next year, at an event attended by Tourism Minister Brendan Griffin and around 500 tourism industry leaders from around the country…Our invite was lost in the post 🙂
By their own admission 2019 has been a very mixed experience for Irish tourism, with weaker demand and the continued uncertainty around Brexit giving rise to consumer concern in Britain and some Mainland European markets.
We don't believe that Brexit is the only reason consumers looking else where…we believe that Tourism Ireland and all relevant stakeholders need to address the cost of being in Ireland when they arrive, yes flights can be cheap in and out, but the cost of doing tourism here has increased significantly and word of mouth spreads.
"In 2019 we've seen a continuing weak trend in Irish tourism – which has been reflected in the feedback from our industry partners, who've been experiencing weaker demand," said Niall Gibbons, CEO of Tourism Ireland.
Apparently the 2020-2022 strategy has been designed to be both flexible and sustainable – while delivering further growth in overseas tourism and supporting the industry across the island of Ireland.
Tourism Ireland aims to spread the benefits of tourism more broadly across the Island of Ireland on a year-round basis and to address the issues of capacity, to ensure the visitor experience continues to be world-class. Their new strategy is built on a set of sustainable destination marketing principles – Nothing like explaining it in simple terms.
We have problems sometimes with the word 'World Class' – not all of our tourism is world class, some of our landscapes and features across the Island of Ireland are amazing and world class but other product offerings are not – maybe we need to start marketing ourselves as a three star destination and then surprise them with a four star and above quality package….
Phase two of Tourism Ireland's global campaign – 'Fill Your Heart With Ireland' – was revealed at today's launch (Was this campaign not used previously?) . As in phase one of the campaign, the new ad features less visited attractions and locations (including Trim Castle, Waterford Greenway, EPIC – the Irish Emigration Museum and Rathlin Island). From January 2020, the 'Fill Your Heart With Ireland' campaign will be rolled out in over 20 markets around the globe.
We are still unsure about the brand meaning of this campaign and whilst its great to see lesser known tourism projects getting the credit they deserve there is a clear need to make tourism affordable here….. Someone joked with us in the off that one campaign could be called "Empty your Wallet in Ireland". Increasing demand to visit Ireland has also seen suppliers and operators take the piss in certain parts of Ireland – and yet no one seems to understand that visitors from America find Ireland expensive sometimes and that other European visitors have a vast array of affordable options for their leisure and tourism breaks.
The period 2020-2022 will see Tourism Ireland transform its digital platforms and re-develop its entire suite of Ireland.com websites – which attracted more than 23 million visits this year – to ensure its digital marketing continues to be 'best in class' in the 2020s. It will use big data and artificial intelligence to reach potential visitors; this new technology will also allow Tourism Ireland to re-target visitors and potential visitors with personalised messages and offers, designed to appeal to their specific interests.
There does not seem to be an initial information about the budget for all this marketing and significantly we think there should be marketing measures put in place to make tourism is Ireland affordable to both domestic and international visitors.