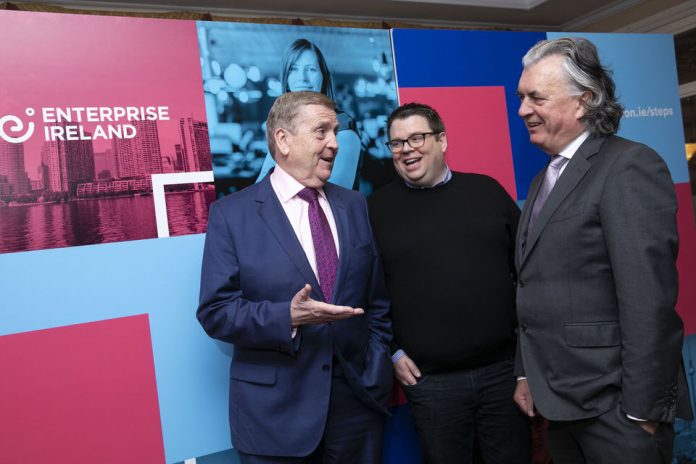 Enterprise Ireland has announced this morning that it is set to open its second office in Canada in the coming weeks as part of the Irish Government's Global Ireland 2025 strategy. The announcement was made at this morning's Enterprise Ireland Ambition North America Conference being held in City West, Dublin.
The new Enterprise Ireland Canadian office in Montreal Quebec will suppport Irish companies to take advantage of the EU-Canada Comprehensive Economic and Trade Agreement (CETA) and deepening links with a Top 10 economy and export market.
Today's Ambition North America Conference seeks to educate, inspire and motivate Irish companies seeking to diversify and scale in the North American market, highlighting the vast opportunities the region presents for Irish businesses. With over 250 delegates as well as CEOs, market experts and buyers from the North America region attending the conference, Irish companies have an opportunity today to engage with senior decision makers from across the region and learn from key market experts on the growth potential in the United States, Canada and Mexico.
Officially opening the event, Minister of State for Trade, Employment, Business, EU Digital Single Market and Data Protection, Pat Breen TD, said, "In the context of Brexit, trade diversification for Irish companies is hugely important in building resilience. North America has long been one of Ireland's closest and most significant trading partners and offers a proven, established option for companies seeking to diversify. The strength of Ireland's trading relationship with North America is a testament to our progressive trade policies and our willingness to embrace innovation and technological change. This is also at the heart of our new Future Jobs Ireland strategy."
Sean Davis, Enterprise Ireland's Regional Director for the Asia Pacific region said, "As the world's largest economy, many Irish companies are already successfully exporting, investing and building businesses in North America. The economic impact of companies on both sides of the Atlantic is significant; with Irish companies generating exports of over €4 billion and employing over 106,000 people in North America. With a strong team in each of the Enterprise Ireland offices across the region, we are focused on growing the ambition of Irish companies to seize the opportunities which continue to be available in the North America market. We are confident that adding to Ireland's global footprint and opening an office in Montreal Quebec will be an avenue for Irish companies to tap into the fifth most rapidly growing metropolitan area in all of North America."
Enterprise Ireland's Country Manager in Canada, Neil Cooney concluded, "Montreal and wider Quebec is a dynamic, fast growing economy which presents unique opportunity for Irish companies doing business across a range of sectors. As a world-leading hub for aerospace, lifesciences, artificial intelligence, and finance, Enterprise Ireland look forward to working with Irish companies to avail of the opportunities in Montreal."