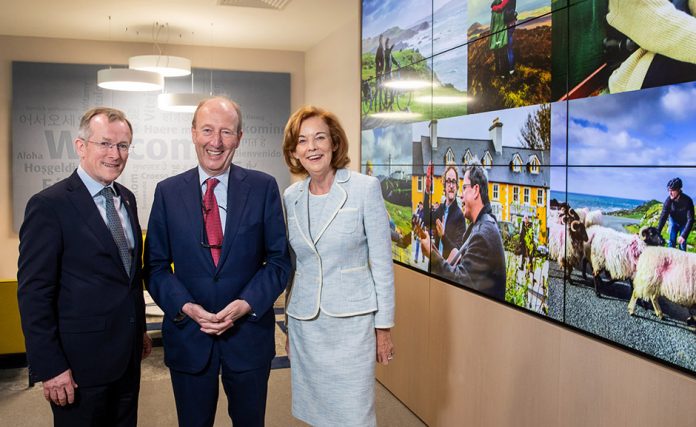 Official CSO figures for the first five months of 2019 indicate that overseas arrivals increased by +3.7% – around 140,600 more than in January-May 2018. At today's mid-year review of overseas tourism, Tourism Minister Shane Ross and Tourism Ireland CEO, Niall Gibbons, welcomed the growth in overseas visitors; however, they also noted that the month of May indicated a continuing weak trend – with a fall of -0.4%.  
Minister Ross and Niall Gibbons looked back on what has contributed to the tourism growth so far this year. They also discussed the challenges for Irish tourism to sustain growth for the rest of 2019 and into 2020 and beyond. Brexit remains the biggest ongoing challenge – causing uncertainty in Britain and in some Mainland European markets. The shift in the sterling/euro exchange rate is impacting our competitiveness and has exacerbated the perception of higher prices here than in Britain; it has also made Britain more affordable for visitors from many of our top markets. The Brexit extension will continue to cause uncertainty for the second half of 2019; however, Tourism Ireland continues to monitor the British market closely, working in conjunction with its British-based Brexit Taskforce.
Speaking at the mid-year review of overseas tourism, Minister for Transport, Tourism and Sport, Shane Ross TD, said: "It is encouraging that overseas visits have continued to grow in the first half of 2019, albeit at a slower rate than in previous years. Following the strong growth in recent years, it was always going to be a challenge to grow the numbers further this year. This continued growth is welcome. My Department's policy is focused on continuing to expand tourism in a manner that is sustainable, with an increased focus on the regions and seasonality. We want to see more overseas tourists coming to Ireland outside of the peak season and spending more time in destinations which are not traditional tourist hotspots. The additional funding allocated to tourism in Budget 2019 has allowed the tourism agencies to provide fresh impetus this year, in terms of both product development and marketing. It is essential that we continue to promote and expand our tourism offering around the world in the face of challenges such as Brexit and other international economic uncertainties. There is no doubt that competitiveness and value for money are vital to sustaining growth in the industry in the next few years. I want to congratulate Tourism Ireland on their continued success in marketing the island of Ireland abroad as tourist destination."
Niall Gibbons, CEO of Tourism Ireland, said: "I am pleased to report growth of +3.7% in overseas visitors to Ireland for the first five months of 2019, an additional 140,600 overseas arrivals when compared with January to May 2018. North America and long-haul markets continue to show consistent growth so far throughout the year – North America grew by +9.1% in the first five months of 2019, an extra 67,700 US and Canadian arrivals, and long-haul markets are up +7.2%. However, Britain and Mainland Europe have shown a weaker pattern as the year unfolds – with Britain down -4.4% and Mainland Europe down -4.6% for the month of May. This leaves both market areas up slightly for the year overall, with Britain up by +0.8% and Mainland Europe by +3.2% for the January-May period.
"Brexit remains an ongoing challenge, giving rise to consumer uncertainty, particularly in Britain and some Mainland European markets. The fall in the value of sterling has made holidays and short breaks here more expensive for British visitors and has made Britain more affordable for visitors from many of our top markets. Ireland needs to be seen as offering an excellent value-for-money holiday experience, so competitiveness and value for money remain more important than ever in Britain. We continue to monitor the situation closely, working in conjunction with our British-based Brexit Taskforce.
"Last month, we unveiled a new strategy to grow tourism from Britain, setting out an ambitious target to grow revenue from British holidaymakers by +25%, to €705 million, by 2022. The strategy was developed cognisant of the ongoing Brexit negotiations; and the recommendations of the strategy remain valid and can be flexed under all potential outcomes of the negotiations."
Summary of CSO figures for first five months of the year:
CSO figures for the first five months of 2019 indicate growth of +3.7% in overseas arrivals to Ireland, around 140,600 more than in January-May 2018.
CSO figures for January-May 2019 can be broken down as follows:

Britain +0.8%
North America +9.1%
Mainland Europe +3.2%
Australia and Developing Markets +7.2%
Looking forward:
Tourism Ireland's 'Fill Your Heart With Ireland' global campaign: Tourism Ireland first major global campaign in seven years is rolling out around the world this year. Phase one of the campaign reached an estimated 120 million people in our top markets this spring and filming for phase two kicked off in May. Additional content will be filmed this autumn – to ensure coverage of lots of additional locations and activities.
Strong online and social media presence: Tourism Ireland continues to leverage its strength in digital and social media. Its global website, Ireland.com, attracted 20+ million unique visits in 2018; and visits to the site are up +13.5% in the first half of 2019. Tourism Ireland is the fourth most popular tourism board in the world on Facebook (after Australia, the United States and Turkey), with more than 4.38 million fans; the number four tourism board on Twitter; and the number four tourism board on YouTube.
Air access up +2.5% in summer 2019: Getting to Ireland has never been easier and summer 2019 sees an estimated 605,843 direct, one-way air seats available each week, a +2.5% increase in capacity on summer 2018. Important new routes this year include two new Aer Lingus services to Dublin from Minneapolis-St Paul and Montreal; a new American Airlines flight from Dallas to Dublin; new Norwegian flight to Dublin from Hamilton (Ontario); new Great Dane Airlines flight from Aalborg to Dublin; a new Ryanair service from East Midlands to Shannon; a new Ryanair flight from Cologne to Ireland West Airport Knock; and new and expanded Ryanair services to Dublin from London Southend, Bournemouth, Milan (Malpensa), Pisa, Toulouse, Bordeaux, Gothenburg and Cologne.
Positive publicity worth €350 million: Tourism Ireland interacts with around 26,000 influential travel, lifestyle and special interest media outlets across the world each year; the organisation also invites influential travel and lifestyle journalists to visit the island of Ireland, to sample our holiday experiences for themselves. This activity helps to generate positive publicity about Ireland in the international media worth about €350 million in equivalent advertising value (EAV).
Doubling investment in China: Tourism Ireland is doubling its marketing investment in China, to €1 million, and will also double its marketing team to 12, over the coming months – to grow Chinese visitor numbers to 200,000 by 2025.
Tourism Ireland's busy autumn promotional schedule will include:

Travel trade and media blitz to the west coast of the US (San Diego, Beverly Hills and Seattle);
Three-city sales mission to Canada (Montreal, Ottawa and London);
Sales mission to Hong Kong;
Sales mission to Qatar;
Digital campaign in Japan, to capitalise on the Rugby World Cup;
IFTM (International French Travel Market) in Paris, the largest travel trade exhibition in France; TTG Incontri travel fair in Rimini; and a trade networking event in Offenbach, in Germany;
'Flavours of Ireland' – targeting long-haul markets through influential UK inbound tour operators; and
World Travel Market, London – the largest B2B event in the global travel and tourism calendar.